Friday, September 23rd, 2011
9pm – 2 am
Location: Project One
251 Rhode Island San Francisco, CA 94103
Official All Shots Double Release Party Facebook Page
Dear Friends, We invite you to celebrate the release of Penta's sixth psytrance album "All Shots Double" at a cozy San Francisco spot which has yet to see a trance party. Project One (which some of you have been to at the Electro Swing fiesta in May) features a great sound system, comfortable couches, inventive soju cocktails and an art gallery.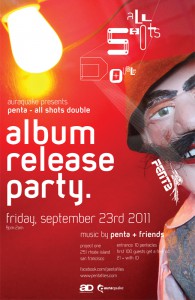 The event starts at 9 pm and goes until 2am in the morning. You will be entertained by a fine selection of San Francisco psy trance acts, including Penta, of course. Full line-up will be posted soon.
The price at the door will be $10 with the first 100 people getting a CD of their choice. Yes, we will have the new Penta album!
This is 21+ Event
We hope to see you there!
Yours,
AuraQuake
P.S. Sorry, the bar does not feature hard liquor. There is wine, beer and cocktails though.